New on Audio!
An intimate portrait of a family and an epic tale of hope and struggle, Sing, Unburied, Sing examines the ugly truths at the heart of the American story and the power – and limitations – of family bonds.
Jojo is thirteen years old and trying to understand what it means to be a man. His mother, Leonie, is in constant conflict with herself and those around her. She is black and her children's father is white. Embattled in ways that reflect the brutal reality of her circumstances, she wants to be a better mother, but can't put her children above her own needs, especially her drug use.
When the children's father is released from prison, Leonie packs her kids and a friend into her car and drives north to the heart of Mississippi and Parchman Farm, the State Penitentiary. At Parchman, there is another boy, the ghost of a dead inmate who carries all of the ugly history of the South with him in his wandering. He too has something to teach Jojo about fathers and sons, about legacies, about violence, about love.
Rich with Ward's distinctive, lyrical language, Sing, Unburied, Sing brings the archetypal road novel into rural twenty-first century America. It is a majestic new work from an extraordinary and singular author.
---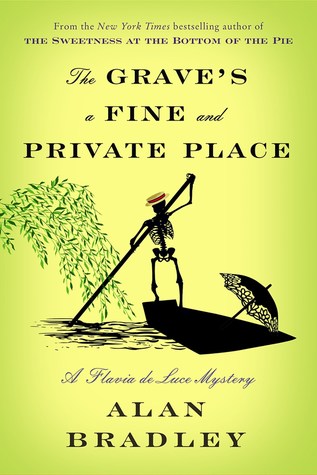 Flavia is enjoying the summer, spending her days punting along the river with her reluctant family. Languishing in boredom, she drags a slack hand in the water, and catches her fingers in the open mouth of a drowned corpse.
Brought to shore, the dead man is found to be dressed in blue silk with ribbons at the knee, and wearing a single red ballet slipper.
Flavia needs to put her super-sleuthing skills to the test to investigate the murder of three gossips in the local church, and to keep her sisters out of danger. But what could possibly connect the son of an executed killer, a far too canny police constable, a travelling circus, and the publican's mysteriously talented wife?
---
Jessica enters a fly fishing competition at a nearby lake. Joining her is the sheriff's wife, Maureen Metzger, who surprises Jess with her enthusiasm for the sport. Their guide, however, is a surprise to both.…
Brian Kinney is an ex-con. Jailed as an accomplice to Darryl Jepson, a convicted killer, Brian was later exonerated, but not before spending seven years behind bars. He seems like a decent enough fellow. Just a man trying to rebuild his life as a family man and fishing guide.
Yet when Jepson breaks out of prison vowing revenge, and the lawyer for both men is found murdered, Cabot Cove becomes the focus of the nation as local, state, and federal authorities descend on Jessica's home town. And to add to the tension, Maureen has gone missing. Is she lost or is she a hostage? Jess soon finds herself caught in a net full of lies, deceit and ulterior motives. In order to save her friend, she'll need to find some answers by hook or by crook.…
---
Four friends, recent college graduates, travel to Kenya to work at a giant refugee camp for Somalis. Two men, two women, each with their own reasons for being there. But after twelve weeks, they're ready for a break and pile into a Land Cruiser for an adventure.
They get more than they bargained for. Bandits hijack them. They wake up in a hut, hooded, bound, no food or water. Hostages. As a personal favor, John Wells is asked to try to find them, but he does so reluctantly. East Africa isn't his usual playing field. And when he arrives, he finds that the truth behind the kidnappings is far more complex than he imagined.
The clock is ticking. The White House is edging closer to an invasion of Somalia. Wells has a unique ability to go undercover, and to make things happen, but if he can't find the hostages soon, they'll be dead – and the U.S. may be in a war it never should have begun.
---
Crippled in his right arm and leg, Aaron spent his childhood fending off a sister who wants to manage him. So when he meets Dorothy, a plain, outspoken, self-dependent young woman, she is like a breath of fresh air. Unhesitatingly he marries her, and they have a relatively happy, unremarkable marriage. But when a tree crashes into their house and Dorothy is killed, Aaron feels as though he has been erased forever. Only Dorothy's unexpected appearances from the dead help him to live in the moment and to find some peace.
Gradually he discovers, as he works in the family's vanity-publishing business, turning out titles that presume to guide beginners through the trials of life, that maybe for this beginner there is a way of saying goodbye.
A beautiful, subtle exploration of loss and recovery, pierced throughout with Anne Tyler's humor, wisdom, and always penetrating look at human foibles.
---
Detective Isaac Bell tracks a killer across the nation's oilfields in this adventure in the #1 New York Times–bestselling historical series.
As Van Dorn private detective Isaac Bell strives to land a government contract to investigate John D. Rockefeller's Standard Oil monopoly, the case takes a deadly turn. A sniper begins murdering opponents of Standard Oil, and soon the assassin—shooting with extraordinary accuracy at seemingly impossible long range—kills Bell's best witness. Then the shooter detonates a terrible explosion that sets the victim's independent refinery ablaze.
Bell summons his best detectives to hunt down the mysterious killer. But the murders—shootings, poisonings, staged accidents—have just begun as Bell tracks his phantom-like criminal adversary from the "oil fever" regions of Kansas and Texas to Washington, D.C., to the tycoons' enclave of New York, to Russia's war-torn Baku oil fields on the Caspian Sea, and back to America for a final, desperate confrontation. And this one will be the most explosive of all.
---
When two dead bodies are found inside a wrecked car on the Golden Gate Bridge, Detective Lindsay Boxer doubts that it will be anything as simple as a traffic accident.
The scene is more gruesome than anything she has seen before. It definitely wasn't the crash that killed these people.
While Lindsay starts to piece this case together, she gets a call she wasn't expecting. Sightings of her ex-colleague-turned-ruthless-killer Mackie Morales have been reported.
Wanted for three murders, Mackie has been in hiding since she escaped from custody. But now she's ready to return to San Francisco and pay a visit to some old friends.
---
When a respected surgeon decides to transplant human body parts into a stray dog, he creates a monster—drunken, profligate, aggressive, and selfish. It seems the worst aspects of the donor have been transplanted as well. As his previously well-regulated home descends into riotous chaos, the doctor realises he will have to try to reverse the operation; but the dog isn't so keen.… Wild, uproarious and deliriously comic, Bulgakov's short novel is at once a comment on the problems of 1920s Russia and a lasting satire on human nature.