We've just received the
new DCF books!
Read five or more to be eligible to vote for your favorite!
For more information and to vote, head over to the Department of Libraries' page.
Annabelle has a secret . . . a secret so big she won't allow friends within five miles of her home. Her mom collects things. Their house is overflowing with stuff. It gives Annabelle's sister nightmares, her brother spends as much time as he can at friends' houses, and her dad buries himself in his work.
So when a stack of newspapers falls on Annabelle's sister, it sparks a catastrophic fight between their parents–one that might tear them all apart–and Annabelle starts to think that things at home finally need to change.
Is it possible for her to clean up the family's mess? Or are they really, truly broken?
Mary E. Lambert's moving and heart-breakingly funny debut novel about the things we hold dear–and the things we let go–will resonate with anyone whose life has ever felt just a little too messy.
---
Thirteen-year-old Karma is lost in the backcountry of Montana with her falcon, Stark, and a runaway boy named Cooper. She 's desperate to find help for her dad and brother after they find themselves in a terrible accident on a back road.
Karma wouldn't be in this mess if her parents hadn't insisted on returning Stark to the bird's original owner. Life at her father's bird sanctuary–and Karma's dreams of becoming an apprentice falconer–will never be the same now that she has to give Stark back. Lost in the wild, her bond with the tamed falcon only grows stronger. All the while, Cooper gets his own lessons on how to trust in newfound friendship.
Both Karma's and Cooper's mettle is tested by mountain terrain, wild animals, severe weather, injury, and their own waning hope as this edge-of-your-seat adventure story vividly portrays the special bonds that can form between humans and animals.
---
Twelve-year-old Stevie's world changes drastically when her parents are tragically killed and she is forced to live with her estranged grandfather at his run-down motel. After failed attempts to connect with her grandfather, Stevie befriends the colorful motel tenants and neighbors. Together, they decide to bring some color and life to the motel by planting a flower garden, against Stevie's grandfather's wishes. It will take Stevie's departure before her grandfather realizes just how needed she is by everyone.
---
Eleven-year-old Imogene (Impy) has grown up with two parents working at the Renaissance Faire, and she's eager to begin her own training as a squire. First, though, she'll need to prove her bravery. Luckily Impy has just the quest in mind–she'll go to public school after a life of being homeschooled! But it's not easy to act like a noble knight-in-training in middle school. Impy falls in with a group of girls who seem really nice (until they don't) and starts to be embarrassed of her thrift shop apparel, her family's unusual lifestyle, and their small, messy apartment. Impy has always thought of herself as a heroic knight, but when she does something really mean in order to fit in, she begins to wonder whether she might be more of a dragon after all.
---
It all started the day Amy Anne Ollinger tried to check out her favorite book in the whole world, From the Mixed-Up Files of Mrs. Basil E. Frankweiler, from the school library. That's when Mrs. Jones, the librarian, told her the bad news: her favorite book was banned! All because a classmate's mom thought the book wasn't appropriate for kids to read.
Amy Anne decides to fight back by starting a secret banned books library out of her locker. Soon, she finds herself on the front line of an unexpected battle over book banning, censorship, and who has the right to decide what she and her fellow students can read.
Reminiscent of the classic novel Frindle by Andrew Clements for its inspiring message, Ban This Book is a love letter to the written word and its power to give kids a voice.
---
At one time, Lew Alcindor was just another kid from New York City with all the usual problems: He struggled with fitting in, with pleasing a strict father, and with overcoming shyness that made him feel socially awkward. But with a talent for basketball, and an unmatched team of supporters, Lew Alcindor was able to transform and to become Kareem Abdul-Jabbar.
From a childhood made difficult by racism and prejudice to a record-smashing career on the basketball court as an adult, Kareem Abdul-Jabbar's life was packed with "coaches" who taught him right from wrong and led him on the path to greatness. His parents, coaches Jack Donahue and John Wooden, Muhammad Ali, Bruce Lee, and many others played important roles in Abdul-Jabbar's life and sparked him to become an activist for social change and advancement. The inspiration from those around him, and his drive to find his own path in life, are highlighted in this personal and awe-inspiring journey.
---
Chester has always wanted to become a service dog. When he fails his certification test, though, it seems like that dream might never come true—until a family adopts him to be a companion for their ten-year-old son, Gus, who has autism.
But Gus acts so differently than anyone Chester has ever met. He never wants to pet Chester, and sometimes he doesn't even want him in the room. Chester's not sure how to help Gus since this isn't exactly the job he trained for—but he's determined to figure it out and show he's the right dog for the job. Because after all, Gus is now his person.
---
Save the restaurant. Save the town. Get the girl. Make Abuela proud. Can thirteen-year-old Arturo Zamora do it all or is he in for a BIG, EPIC FAIL?
For Arturo, summetime in Miami means playing basketball until dark, sipping mango smoothies, and keeping cool under banyan trees. And maybe a few shifts as junior lunchtime dishwasher at Abuela's restaurant. Maybe. But this summer also includes Carmen, a cute poetry enthusiast who moves into Arturo's apartment complex and turns his stomach into a deep fryer. He almost doesn't notice the smarmy land developer who rolls into town and threatens to change it. Arturo refuses to let his family and community go down without a fight, and as he schemes with Carmen, Arturo discovers the power of poetry and protest through untold family stories and the work of Jose Marti.
---
When Felix Yz was three years old, a hyperintelligent fourth-dimensional being became fused inside him after one of his father's science experiments went terribly wrong. The creature is friendly, but Felix—now thirteen—won't be able to grow to adulthood while they're still melded together. So a risky Procedure is planned to separate them . . . but it may end up killing them both instead.
This book is Felix's secret blog, a chronicle of the days leading up to the Procedure. Some days it's business as usual—time with his close-knit family, run-ins with a bully at school, anxiety about his crush. But life becomes more out of the ordinary with the arrival of an Estonian chess Grandmaster, the revelation of family secrets, and a train-hopping journey. When it all might be over in a few days, what matters most?
---
There are no shortcuts to surviving your first day at a new school–you can't fix it with duct tape like you would your Chuck Taylors. On Day One, twelve-year-old Malu (Maria Luisa, if you want to annoy her) inadvertently upsets Posada Middle School's queen bee, violates the school's dress code with her punk rock look, and disappoints her college-professor mom in the process. Her dad, who now lives a thousand miles away, says things will get better as long as she remembers the first rule of punk: be yourself.
The real Malu loves rock music, skateboarding, zines, and Soyrizo (hold the cilantro, please). And when she assembles a group of like-minded misfits at school and starts a band, Malu finally begins to feel at home. She'll do anything to preserve this, which includes standing up to an anti-punk school administration to fight for her right to express herself!
---
Norah Levy has just completed two years of treatment for leukemia and is ready to go back to the "real world" of middle school. The hospital social worker warns her the transition back may be tricky, but Norah isn't worried. Compared with battling cancer, how tricky can seventh grade be?
Very. Everyone is either treating Norah like she will break at any second, or acting weird about all the attention she's getting. Her best friend, Harper, does her best to be there for Norah, but she doesn't get it, really—and is hanging out with a new group of girls, leaving Norah feeling a little unsteady. Norah's other good friend, Silas, is avoiding her. What's that about, anyway?
When Norah is placed with the eighth graders for math and science she meets Griffin, a cute boy who encourages her love of drawing and Greek mythology. And Norah decides not to tell him her secret—that she was "that girl" who had cancer. But when something happens to make secret-keeping impossible, Norah must figure out a way to share her cancer story. But how do you explain something to others that you can't explain to yourself? And then, once you find the words, how do you move forward with a whole new 'normal'?
---
Meet Chris Harris, the 21st-century Shel Silverstein! Already lauded by critics as a worthy heir to such greats as Silverstein, Seuss, Nash and Lear, his hilarious debut poetry collection molds wit and wordplay, nonsense and oxymoron, and visual and verbal sleight-of-hand in masterful ways that make you look at the world in a whole new wonderfully upside-down way. With enthusiastic endorsements from bestselling luminaries as Lemony Snicket, Judith Viorst, Andrea Beaty, and many others, this entirely unique collection offers a surprise around every corner: from the ongoing rivalry between the author and illustrator, to the mysteriously misnumbered pages that can only be deciphered by a certain code-cracking poem, to the rhyming fact-checker in the footnotes who points out when "poetic license" gets out of hand. Adding to the fun: Lane Smith, bestselling creator of beloved hits like It's a Book and The Stinky Cheese Man and Other Fairly Stupid Tales, has spectacularly illustrated this extraordinary collection with nearly one hundred pieces of appropriately absurd art. It's a mischievous match made in heaven!
---
Aven Green loves to tell people that she lost her arms in an alligator wrestling match, or a wildfire in Tanzania, but the truth is she was born without them. And when her parents take a job running Stagecoach Pass, a rundown western theme park in Arizona, Aven moves with them across the country knowing that she'll have to answer the question over and over again.
Her new life takes an unexpected turn when she bonds with Connor, a classmate who also feels isolated because of his own disability, and they discover a room at Stagecoach Pass that holds bigger secrets than Aven ever could have imagined. It's hard to solve a mystery, help a friend, and face your worst fears. But Aven's about to discover she can do it all . . . even without arms.
---
It is Earth year 2213—but, of course, there is no Earth anymore. Not since it was burned to a cinder by the sun, which has mysteriously begun the process of going supernova. The human race has fled to Mars, but this was only a temporary solution while we prepare for a second trip: a one-hundred-fifty-year journey to a distant star, our best guess at where we might find a new home.
Liam Saunders-Chang is one of the last humans left on Mars. The son of two scientists who have been racing against time to create technology vital to humanity's survival, Liam, along with his friend Phoebe, will be on the very last starliner to depart before Mars, like Earth before it, is destroyed.
Or so he thinks. Because before this day is over, Liam and Phoebe will make a series of profound discoveries about the nature of time and space, and find out that the human race is just one of many in our universe locked in a desperate struggle for survival.
---
When street magician Carter runs away, he never expects to find friends and magic in a sleepy New England town. But like any good trick, things change instantly as greedy B.B. Bosso and his crew of crooked carnies arrive to steal anything and everything they can get their sticky fingers on.
After a fateful encounter with the local purveyor of illusion, Dante Vernon, Carter teams up with five other like-minded kids. Together, using both teamwork and magic, they'll set out to save the town of Mineral Wells from Bosso's villainous clutches. These six Magic Misfits will soon discover adventure, friendship, and their own self-worth in this delightful new series.
---
Patina, or Patty, runs like a flash. She runs for many reasons—to escape the taunts from the kids at the fancy-schmancy new school she's been sent to since she and her little sister had to stop living with their mom. She runs from the reason WHY she's not able to live with her "real" mom any more: her mom has The Sugar, and Patty is terrified that the disease that took her mom's legs will one day take her away forever. So Patty's also running for her mom, who can't. But can you ever really run away from any of this? As the stress builds up, it's building up a pretty bad attitude as well. Coach won't tolerate bad attitude. No day, no way. And now he wants Patty to run relay…where you have to depend on other people? How's she going to do THAT?
---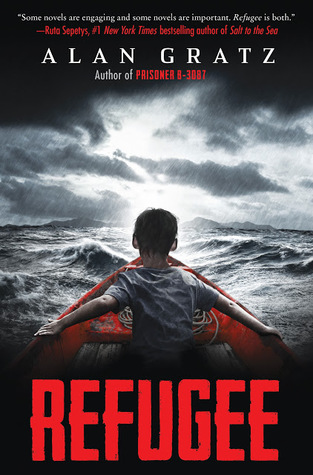 Three different kids.
One mission in common: ESCAPE.
Josef is a Jewish boy in 1930s Nazi Germany. With the threat of concentration camps looming, he and his family board a ship bound for the other side of the world…
Isabel is a Cuban girl in 1994. With riots and unrest plaguing her country, she and her family set out on a raft, hoping to find safety and freedom in America…
Mahmoud is a Syrian boy in 2015. With his homeland torn apart by violence and destruction, he and his family begin a long trek toward Europe…
All three young people will go on harrowing journeys in search of refuge. All will face unimaginable dangers–from drownings to bombings to betrayals. But for each of them, there is always the hope of tomorrow. And although Josef, Isabel, and Mahmoud are separated by continents and decades, surprising connections will tie their stories together in the end.
---
Chase's memory just went out the window.
Chase doesn't remember falling off the roof. He doesn't remember hitting his head. He doesn't, in fact, remember anything. He wakes up in a hospital room and suddenly has to learn his whole life all over again . . . starting with his own name.
He knows he's Chase. But who is Chase? When he gets back to school, he sees that different kids have very different reactions to his return.
Some kids treat him like a hero. Some kids are clearly afraid of him.
One girl in particular is so angry with him that she pours her frozen yogurt on his head the first chance she gets.
Pretty soon, it's not only a question of who Chase is–it's a question of who he was . . . and who he's going to be.
---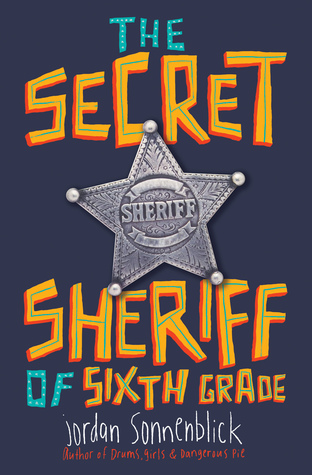 In sixth grade, bad things can happen to good kids. Bullies will find your weakness and jump on it. Teachers will say you did something wrong when really you didn't mean to do anything wrong. The kids who joke the loudest can drown out the quieter, nicer kids.
Maverick wants to change all that. One of the last things his father left him was a toy sheriff's badge, back when Maverick was little. Now he likes to carry it around to remind him of his dad — and also to remind him to make school a better place for everyone . . . even if that's a hard thing to do, especially when his own home life is falling apart.
---
11-year-old Alex Petroski loves space and rockets, his mom, his brother, and his dog Carl Sagan—named for his hero, the real-life astronomer. All he wants is to launch his golden iPod into space the way Carl Sagan (the man, not the dog) launched his Golden Record on the Voyager spacecraft in 1977. From Colorado to New Mexico, Las Vegas to L.A., Alex records a journey on his iPod to show other lifeforms what life on earth, his earth, is like.
But his destination keeps changing. And the funny, lost, remarkable people he meets along the way can only partially prepare him for the secrets he'll uncover—from the truth about his long-dead dad to the fact that, for a kid with a troubled mom and a mostly not-around brother, he has way more family than he ever knew.
---
Charlie wishes his life could be as predictable and simple as chicken nuggets.
And it usually is. He has his clean room, his carefully organized bird books and art supplies, his favorite foods, and comfortable routines.
But life has been unraveling since his war journalist father was injured in Afghanistan. And when Dad gets sent across country for medical treatment, Charlie must reluctantly travel to meet him. With his boy-crazy sister, unruly twin brothers, and a mysterious new family friend at the wheel, the journey looks anything but smooth.
So Charlie decides to try and spot all the birds that he and his dad had been hoping to see together in the wild. If he can complete the Someday Birds list for Dad, then maybe, just maybe, things will turn out okay…
---
Avani is the new kid in town, and she's not happy about it. Everyone in school thinks she's weird, especially the girls in her Flower Scouts troop. Is it so weird to think scouting should be about fun and adventure, not about makeovers and boys, boys, boys?
But everything changes when Avani is "accidentally" abducted by a spunky alien named Mabel. Mabel is a scout too—a Star Scout. Collecting alien specimens (like Avani) goes with the territory, along with teleportation and jetpack racing. Avani might be weird, but in the Star Scouts she fits right in. If she can just survive Camp Andromeda, and keep her dad from discovering that she's left planet Earth, she's in for the adventure of a lifetime.
---
Rydr is on a train heading east, leaving California, where her gramma can't take care of her anymore, and traveling to Chicago to live with an unknown relative. She brings with her a suitcase, memories both happy and sad, and a box containing something very important.
As Rydr meets her fellow passengers and learns their stories, her own past begins to emerge. And as much as Rydr may want to forget about her life in California, on the train she finds that maybe her past can help her deal with her present. And maybe hope and forgiveness are all around her and, most important, within her, if she's willing to look for it.
---
The Vanderbeekers have always lived in the brownstone on 141st Street. It's practically another member of the family. So when their reclusive, curmudgeonly landlord decides not to renew their lease, the five siblings have eleven days to do whatever it takes to stay in their beloved home and convince the dreaded Beiderman just how wonderful they are. And all is fair in love and war when it comes to keeping their home.
---
The 1650s to the 1730s marked the golden age of piracy, when fearsome pirates like Blackbeard ruled the waves, seeking not only treasure but also large and fast ships to carry it. TheWhydah was just such a ship, built to ply the Triangular Trade route, which it did until one of the greediest pirates of all, Black Sam Bellamy, commandeered it. Filling the ship to capacity with treasure, Bellamy hoped to retire with his bounty but in 1717 the ship sank in a storm off Cape Cod. For more than two hundred years, the wreck of the Whydah (and the riches that went down with it) eluded treasure seekers, until the ship was finally found in 1984 by marine archaeologists. The artifacts brought up from the ocean floor are priceless, both in value and in the picture they reveal of life in that much-mythologized era, changing much of what we know about pirates.
---
Trees can't tell jokes, but they can certainly tell stories. . . .
Red is an oak tree who is many rings old. Red is the neighborhood "wishtree"—people write their wishes on pieces of cloth and tie them to Red's branches. Along with her crow friend Bongo and other animals who seek refuge in Red's hollows, this "wishtree" watches over the neighborhood.
You might say Red has seen it all. Until a new family moves in. Not everyone is welcoming, and Red's experiences as a wishtree are more important than ever.
---
Have you been unexpectedly burdened by a recently orphaned or unclaimed creature? Worry not! We have just the solution for you!
Welcome to the Home for Wayward and Misbegotten Creatures, an institution run by evil Miss Carbunkle, a cunning villainess who believes her terrified young charges exist only to serve and suffer. Part animal and part human, the groundlings toil in classroom and factory, forbidden to enjoy anything regular children have, most particularly singing and music. For the Wonderling, an innocent-hearted, one-eared, fox-like eleven-year-old with only a number rather than a proper name — a 13 etched on a medallion around his neck — it is the only home he has ever known.
But unexpected courage leads him to acquire the loyalty of a young bird groundling named Trinket, who gives the Home's loneliest inhabitant two incredible gifts: a real name — Arthur, like the good king in the old stories — and a best friend. Using Trinket's ingenious invention, the pair escape over the wall and embark on an adventure that will take them out into the wider world and ultimately down the path of sweet Arthur's true destiny.
---