Become our friend on Goodreads and tell us what you read!
New Fiction!
(Scroll down for Nonfiction!)
Hollywood, 1914. Frances Marion, a young writer desperate for a break, meets "America's Sweetheart," Mary Pickford, already making a name for herself both on and off the screen with her golden curls and lively spirit. Together, these two women will take the movie business by storm.
Mary Pickford becomes known as the "Queen of the Movies"—the first actor to have her name on a movie marquee, and the first to become a truly international celebrity. Mary and her husband, Douglas Fairbanks, were America's first Royal Couple, living in a home more famous that Buckingham Palace. Mary won the first Academy Award for Best Actress in a Talkie and was the first to put her hand and footprints in Grauman's theater sidewalk. Her annual salary in 1919 was $625,000—at a time when women's salaries peaked at $10 a week. Frances Marion is widely considered one of the most important female screenwriters of the 20th century, and was the first writer to win multiple Academy Awards. The close personal friendship between the two stars was closely linked to their professional collaboration and success.
---
Two sisters: Miranda, the older, responsible one, always her younger sister's protector; Lucia, the vibrant, headstrong, unconventional one, whose impulses are huge and, often, life changing. When their mother dies and Lucia starts to hear voices, it's Miranda who must fight for the help her sister needs — even as Lucia refuses to be defined by any doctor's diagnosis.
Determined, impetuous, she plows ahead, marrying a big-hearted Israeli only to leave him, suddenly, to have a baby with a young Latino immigrant. She will move with her new family to Ecuador, but the bitter constant remains: she cannot escape her own mental illness. Lucia lives life on a grand scale, until inevitably, she crashes to earth. And then Miranda must decide, again, whether or not to step in — but this time, Lucia may not want to be saved. The bonds of sisterly devotion stretch across oceans, but what does it take to break them?
---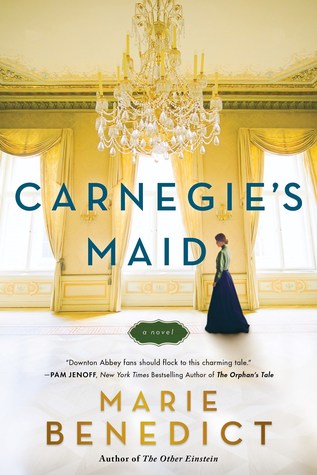 In the industrial 1860s at the dawn of the Carnegie empire, Irish immigrant Clara Kelly finds herself in desperate circumstances. Looking for a way out, she seeks employment as a lady's maid in the home of the prominent businessman Andrew Carnegie. Soon, the bond between Clara and her employer deepens into love. But when Clara goes missing, Carnegie's search for her unearths secrets and revelations that lay the foundation for his lasting legacy. With captivating insight and stunning heart, Carnegie's Maid tells the story of one lost woman who may have spurred Andrew Carnegie's transformation from ruthless industrialist into the world's first true philanthropist.
---
What begins as a manhunt for the missing daughter of a wealthy tech billionaire becomes something altogether different when the young woman's body is discovered in an abandoned warehouse in Kew Gardens, Queens, the head nowhere to be found. It appears there may be two killers on the loose–one responsible for the young woman's death, another responsible for the mutilation. A pair of such dastardly killers requires a team of equally talented investigators. Luckily, both Vincent D'Agosta and Special Agent Pendergast are back in town.
D'Agosta hopes that working a case back on his home turf for the first time in years will reinvigorate the FBI Special Agent and give him an opportunity to flex his investigative might. But neither is prepared to face a killer–or killers–as diabolical as this. It will take all of Pendergast and D'Agosta's intelligence and strength simply to match wits–let alone stay alive.
---
Local author! It's August 2011, and Tropical Storm Irene has just wreaked havoc on Vermont, flooding rivers and destroying homes. One thousand miles away—while tending bar in New Orleans—Vale receives a call and is told that her mother, Bonnie, has disappeared. Despite a years-long estrangement from Bonnie, Vale drops everything and returns home to look for her.
Though the hometown Vale comes back to is not the one she left eight years earlier, she finds herself falling back into the lives of the family she thought she'd long since left behind. As Vale begins her search, the narrative opens up and pitches back and forth in time to follow three generations of women—a farming widow, a back-to-the-land dreamer, and an owl-loving hermit—as they seek love, bear children, and absorb losses. All the while, Vale's search has her unwittingly careening toward a family origin secret more stunning than she ever imagined.
Written with a striking sense of place, Heart Spring Mountain is an arresting novel about returning home, finding hope in the dark, and of the power of the land—and the stories it harbors—to connect and to heal. It's also an absorbing exploration of the small fractures that can make families break-and the lasting ties that bind them together.
---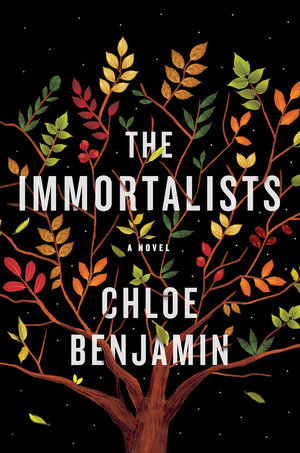 If you were told the date of your death, how would it shape your present?
It's 1969 in New York City's Lower East Side, and word has spread of the arrival of a mystical woman, a traveling psychic who claims to be able to tell anyone the day they will die. The Gold children—four adolescents on the cusp of self-awareness—sneak out to hear their fortunes.
Their prophecies inform their next five decades. Golden-boy Simon escapes to the West Coast, searching for love in '80s San Francisco; dreamy Klara becomes a Las Vegas magician, obsessed with blurring reality and fantasy; eldest son Daniel seeks security as an army doctor post-9/11, hoping to control fate; and bookish Varya throws herself into longevity research, where she tests the boundary between science and immortality.
---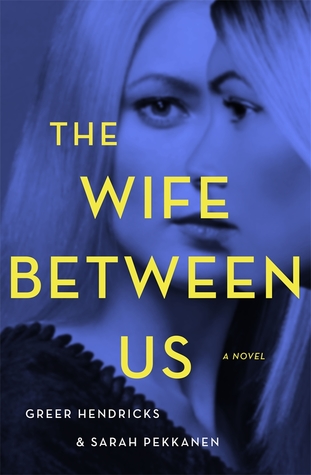 When you read this book, you will make many assumptions.
You will assume you are reading about a jealous ex-wife.
You will assume she is obsessed with her replacement – a beautiful, younger woman who is about to marry the man they both love.
You will assume you know the anatomy of this tangled love triangle.
Assume nothing.
Twisted and deliciously chilling, Greer Hendricks and Sarah Pekkanen's The Wife Between Us exposes the secret complexities of an enviable marriage – and the dangerous truths we ignore in the name of love.
Read between the lies.
---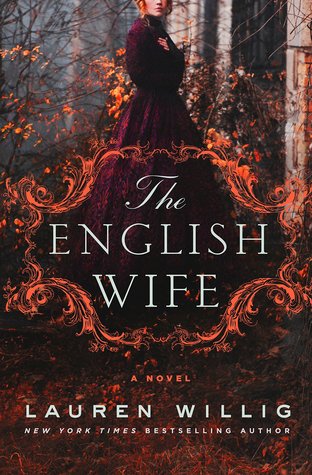 Annabelle and Bayard Van Duyvil live a charmed life: he's the scion of an old Knickerbocker family, she grew up in a Tudor manor in England, they had a whirlwind romance in London, they have three year old twins on whom they dote, and he's recreated her family home on the banks of the Hudson and renamed it Illyria. Yes, there are rumors that she's having an affair with the architect, but rumors are rumors and people will gossip. But then Bayard is found dead with a knife in his chest on the night of their Twelfth Night Ball, Annabelle goes missing, presumed drowned, and the papers go mad. Bay's sister, Janie, forms an unlikely alliance with a reporter to uncover the truth, convinced that Bay would never have killed his wife, that it must be a third party, but the more she learns about her brother and his wife, the more everything she thought she knew about them starts to unravel. Who were her brother and his wife, really? And why did her brother die with the name George on his lips?
---
 It is the seventeenth century and a wall is being raised around Wychwood, transforming the great house and its park into a private realm of ornamental lakes, grandiose gardens, and majestic avenues designed by Mr. Norris, a visionary landscaper. In this enclosed world everyone has something to hide after decades of civil war. Dissenters shelter in the woods, lovers rendezvous in secret enclaves, and outsiders—migrants fleeing the plague—find no mercy.
Three centuries later, far away in Berlin, another wall is raised, while at Wychwood, an erotic entanglement over one sticky, languorous weekend in 1961 is overshadowed by news of historic change. Young Nell, whose father manages the estate, grows up amid dramatic upheavals as the great house is invaded: a pop festival by the lake, a television crew in the dining room, a Great Storm brewing. In 1989, as the Cold War peters out, a threat from a different kind of conflict reaches Wychwood's walls.
---
WINTER. Bleak. Frosty wind, earth as iron, water as stone, so the old song goes. And now Art's mother is seeing things.
Come to think of it, Art's seeing things himself.
When four people, strangers and family, converge on a fifteen-bedroom house in Cornwall for Christmas, will there be enough room for everyone?
Winter. It makes things visible. In Ali Smith's Winter, life-force matches up to the toughest of the seasons. In this second novel in her Seasonal cycle, the follow-up to her sensational Autumn,Smith's shapeshifting novel casts a warm, wise, merry and uncompromising eye over a post-truth era in a story rooted in history and memory and with a taproot deep in the evergreens, art and love.
---
Lord, what fools these mortals be . . .
In the heart of Elizabethan England, Richard Shakespeare dreams of a glittering career in one of the London playhouses, a world dominated by his older brother, William. But he is a penniless actor, making ends meet through a combination of a beautiful face, petty theft and a silver tongue. As William's star rises, Richard's onetime gratitude is souring and he is sorely tempted to abandon family loyalty.
So when a priceless manuscript goes missing, suspicion falls upon Richard, forcing him onto a perilous path through a bawdy and frequently brutal London. Entangled in a high-stakes game of duplicity and betrayal which threatens not only his career and potential fortune, but also the lives of his fellow players, Richard has to call on all he has now learned from the brightest stages and the darkest alleyways of the city. To avoid the gallows, he must play the part of a lifetime . . . .
---
And . . . she's off. Eighty-year-old Herra Bjornsson, one of the most original narrators in literary history, takes readers along with her on a dazzling ride of a novel that spans the events and locales of the twentieth century. As she lies alone in that garage in the heart of Reykjavik, waiting to die, Herra reflects–in a voice by turns darkly funny, bawdy, poignant, and always, always smart–on the mishaps, tragedies, and turns of luck that took her from Iceland to Nazi Germany, from the United States to Argentina and back to a post-crash, high-tech, modern Iceland.
Born to a prominent political family, Herra's childhood begins in the idyllic islands of western Iceland. But when her father makes the foolish decision to cast his lot with a Hitler on the rise, she soon finds herself abandoned and alone in war-torn Europe, relying on only her wits and occasional good fortune to survive.
For Herra is, ultimately, a fierce survivor, a modern woman ahead of her time who is utterly without self-pity despite the horrors she has endured. With death approaching, she remembers the husbands and children she has loved and lost, and tries, for the first time, to control her own fate by defying her family's wishes and setting a date for her cremation–at a toasty temperature of 1,000 degrees. Each chapter of Herra's story is a piece of a haunting puzzle that comes together beautifully in the book's final pages.
---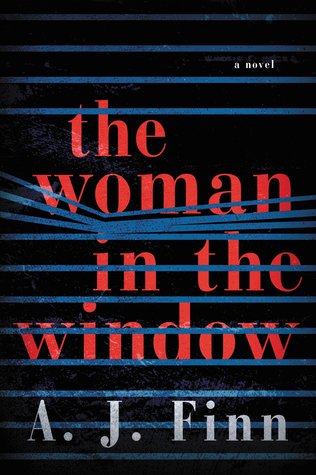 What did she see?
It's been ten long months since Anna Fox last left her home. Ten months during which she has haunted the rooms of her old New York house like a ghost, lost in her memories, too terrified to step outside.
Anna's lifeline to the real world is her window, where she sits day after day, watching her neighbours. When the Russells move in, Anna is instantly drawn to them. A picture-perfect family of three, they are an echo of the life that was once hers.
But one evening, a frenzied scream rips across the silence, and Anna witnesses something no one was supposed to see. Now she must do everything she can to uncover the truth about what really happened. But even if she does, will anyone believe her? And can she even trust herself?
---
It is 1988. On a dead-end street in a run-down suburb there is a music shop that stands small and brightly lit, jam-packed with records of every kind. Like a beacon, the shop attracts the lonely, the sleepless, and the adrift; Frank, the shop's owner, has a way of connecting his customers with just the piece of music they need. Then, one day, into his shop comes a beautiful young woman, Ilse Brauchmann, who asks Frank to teach her about music. Terrified of real closeness, Frank feels compelled to turn and run, yet he is drawn to this strangely still, mysterious woman with eyes as black as vinyl. But Ilse is not what she seems, and Frank has old wounds that threaten to reopen, as well as a past it seems he will never leave behind. Can a man who is so in tune with other people's needs be so incapable of connecting with the one person who might save him? The journey that these two quirky, wonderful characters make in order to overcome their emotional baggage speaks to the healing power of music–and love–in this poignant, ultimately joyful work of fiction.
---
Seattle gallery owner Virginia Troy has spent years battling the demons that stem from her childhood time in a cult and the night a fire burned through the compound, killing her mother. And now one of her artists has taken her own life, but not before sending Virginia a last picture: a painting that makes Virginia doubt everything about the so-called suicide—and her own past.
Like Virginia, private investigator Cabot Sutter was one of the children in the cult who survived that fire… and only he can help her now. As they struggle to unravel the clues in the painting, it becomes clear that someone thinks Virginia knows more than she does and that she must be stopped. Thrown into an inferno of desire and deception, Virginia and Cabot draw ever closer to the mystery of their shared memories—and the shocking fate of the one man who still wields the power to destroy everything they hold dear.
---
DAVE ROBICHEAUX IS A HAUNTED MAN.
Between his recurrent nightmares about Vietnam, his battle with alcoholism, and the sudden loss of his beloved wife, Molly, his thoughts drift from one irreconcilable memory to the next. Images of ghosts at Spanish Lake live on the edge of his vision.
During a murder investigation, Dave Robicheaux discovers he may have committed the homicide he's investigating, one which involved the death of the man who took the life of Dave's beloved wife. As he works to clear his name and make sense of the murder, Robicheaux encounters a cast of characters and a resurgence of dark social forces that threaten to destroy all of those whom he loves. What emerges is not only a propulsive and thrilling novel, but a harrowing study of America: this nation's abiding conflict between a sense of past grandeur and a legacy of shame, its easy seduction by demagogues and wealth, and its predilection for violence and revenge. James Lee Burke has returned with one of America's favorite characters, in his most searing, most prescient novel to date.
---
In the wake of a personal tragedy, former CIA operative Teddy Fay–now a successful Hollywood film producer known as Billy Barnett–takes a leave of absence to travel and grieve, and lands in Santa Fe in the company of his friends Stone Barrington and Ed Eagle. There, fate hands him an unexpected opportunity to exact quiet revenge for his recent loss, from a man who helped to cover up the crime.
But when his enemy wises up to Teddy's machinations, a discreet game of sabotage escalates to a potentially lethal battle. From the arid splendor of the New Mexico desert to the glamour of Hollywood's rolling hills, it will take all of Stone Barrington's diplomacy and skill to maneuver for Teddy's advantage while keeping innocents out of the crossfire.
---
One step forward. Two steps back. The Tufts scholarship that put Nora Stuart on the path to becoming a Boston medical specialist was a step forward. Being hit by a car and then overhearing her boyfriend hit on another doctor when she thought she was dying? Two major steps back.
Injured in more ways than one, Nora feels her carefully built life cracking at the edges. There's only one place to land: home. But the tiny Maine community she left fifteen years ago doesn't necessarily want her. At every turn, someone holds the prodigal daughter of Scupper Island responsible for small-town drama and big-time disappointments.
With a tough islander mother who's always been distant and a wild-child sister in jail, unable to raise her daughter–a withdrawn teen as eager to ditch the island as Nora once was–Nora has her work cut out for her if she's going to take what might be her last chance to mend the family.
But as some relationships crumble around her, others unexpectedly strengthen. Balancing loss and opportunity, a dark event from her past with hope for the future, Nora will discover that tackling old pain makes room for promise…and the chance to begin again.
---
When single mother Devon Connor hires private investigator Elvis Cole, it's because her troubled teenage son Tyson is flashing cash and she's afraid he's dealing drugs. But the truth is devastatingly different. With two other partners in crime, he's been responsible for a string of high-end burglaries, a crime spree that takes a deadly turn when one of them is murdered and Tyson and his girlfriend disappear.
They stole the wrong thing from the wrong man. Determined to get it back, he has hired a team that is smart and brutal, and to even the odds, Cole calls in his friends Joe Pike and Jon Stone. But even they may be overmatched. The hired killers are leaving a trail of bodies in their wake. A few more won't make any difference.
---
Rome, present day: an extravagant, opulent world of fashionable parties, fancy cars, and powerful men and women in a constant dance of excess and intrigue. Oscar Martello, president of a film production company, is a self-made man: despite his humble origins, he has managed to achieve unbelievable fame and success. He is also a cutthroat and ruthless visionary. Andrea Serrano, his best friend, is a scriptwriter who explores the themes of love and murder in his work. The beautiful actress Jacaranda Rizzi, Oscar's muse, has a secret that has been tormenting her for many years. Pulsing with ambition, all three represent the apex of Rome's complex and privileged network of glamorous yet troubled aristocrats.
When a fire devastates Oscar's villa in one of the city's most fashionable neighborhoods and he goes missing, all of Rome is left to wonder about his fate. The evidence points to Jacaranda, but could she have orchestrated something so sinister? More important, could she have done it alone, or has Andrea played some role in the debacle?
---
When Jim Cronley hears he's just won the Legion of Merit, he figures there's another shoe to drop, and it's a big one: he's out as Chief, DCI-Europe. His new assignments, however, couldn't be bigger: to protect the U.S. chief prosecutor in the Nuremberg trials from a rumored Soviet NKGB kidnapping, and to hunt down and dismantle the infamous Odessa, an organization dedicated to helping Nazi war criminals escape to South America.
It doesn't take long for the first attempt on his life, and then the second. NKGB or Odessa? Who can tell? The deeper he pushes, the more secrets tumble out: a scheme to swap Nazi gold for currency, a religious cult organized around Himmler himself, an NKGB agent who is actually working for the Mossad, a German cousin who turns out to be more malevolent than he appears–and a distractingly attractive newspaperwoman who seems to be asking an awful lot of questions.
Which one will turn out to be the most dangerous? Cronley wishes he knew.
---
Santosh Wagh quit his job as head of Private India after harrowing events in Mumbai almost got him killed. But Jack Morgan, global head of the world's finest investigation agency, needs him back. Jack is setting up a new office in Delhi, and Santosh is the only person he can trust.
Still battling his demons, Santosh accepts, and it's not long before the agency takes on a case that could make or break them. Plastic barrels containing dissolved human remains have been found in the basement of a house in an upmarket area of South Delhi. But this isn't just any house, this property belongs to the state government.
With the crime scene in lockdown and information suppressed by the authorities, delving too deep could make Santosh a target to be eliminated.
---
New Nonfiction!
Innately curious, infants and toddlers love to explore, investigate, and discover—making the earliest years a perfect time to begin teaching the foundations of STEM. This book defines what science, technology, engineering, and math education looks like for this age group, and why it is so vital for children to develop STEM knowledge. Expand your understanding of STEM to lay the foundation for children to develop skills in critical thinking, communication, collaboration, and creativity.
This book supplies fifty play-based developmentally appropriate activities for introducing STEM. All activities include extensions, inquiry questions, and tips on how to help parents strengthen children's learning at hom
---
Oliver Sacks, a scientist and a storyteller, is beloved by readers for the extraordinary neurological case histories (Awakenings, An Anthropologist on Mars) in which he introduced and explored many now familiar disorders–autism, Tourette's syndrome, face blindness, savant syndrome. He was also a memoirist who wrote with honesty and humor about the remarkable and strange encounters and experiences that shaped him (Uncle Tungsten, On the Move, Gratitude). Sacks, an Oxford-educated polymath, had a deep familiarity not only with literature and medicine but with botany, animal anatomy, chemistry, the history of science, philosophy, and psychology. The River of Consciousness is one of two books Sacks was working on up to his death, and it reveals his ability to make unexpected connections, his sheer joy in knowledge, and his unceasing, timeless project to understand what makes us human.
---
In "I Don't Know," Corrigan wrestles to make peace with uncertainty, whether it's over expected invitations that never come or a friend's agonizing infertility. In "No," she admires her mother's ability to set boundaries, her liberating willingness to be unpopular. In "Tell Me More," she learns something important about listening from a facialist named Tish. And in "I Was Wrong," she comes clean about her disastrous role in a family fight–and explains why saying sorry may not be enough. With refreshing candor, a deep well of empathy, and her signature desire to understand "the thing behind the thing," Corrigan swings in this insightful book between meditations on life with a preoccupied husband and two mercurial teenage daughters to profound observations on love and loss.
In channeling the characteristically streetwise, ever-relatable voice that has defined Corrigan's work, Tell Me More is a meaningful, touching take on the power of the right words at the right moment to change everything.
---
For 25 years, Dr. Pietro Bartolo has run the lone medical clinic on the Italian island of Lampedusa. In that time he has rescued, welcomed, and cared for many of the hundreds of thousands of desperate migrants from the Middle East and Africa who have washed up on the island's shores. In this inspiring account of his life and work, Bartolo shares his quiet dignity, unshakable moral center, and inspirational message—"We can't and we won't be governed by our fears." The book is filled with Bartolo's unforgettable tales of pain and hope, moving stories of those who didn't make it and those who did. Tears of Salt is both a lasting work of literature and an intimate portrait and fresh perspective on a signal crisis of our time.
---
In November 2014, thirteen members of the Biden family gathered on Nantucket for Thanksgiving, a tradition they had been celebrating for the past forty years; it was the one constant in what had become a hectic, scrutinized, and overscheduled life. The Thanksgiving holiday was a much-needed respite, a time to connect, a time to reflect on what the year had brought, and what the future might hold. But this year felt different from all those that had come before. Joe and Jill Biden's eldest son, Beau, had been diagnosed with a malignant brain tumor fifteen months earlier, and his survival was uncertain. "Promise me, Dad," Beau had told his father. "Give me your word that no matter what happens, you're going to be all right." Joe Biden gave him his word.
Promise Me, Dad chronicles the year that followed, which would be the most momentous and challenging in Joe Biden's extraordinary life and career. Vice President Biden traveled more than a hundred thousand miles that year, across the world, dealing with crises in Ukraine, Central America, and Iraq. When a call came from New York, or Capitol Hill, or Kyiv, or Baghdad — Joe, I need your help — he responded. For twelve months, while Beau fought for and then lost his life, the vice president balanced the twin imperatives of living up to his responsibilities to his country and his responsibilities to his family. And never far away was the insistent and urgent question of whether he should seek the presidency in 2016.
The year brought real triumph and accomplishment, and wrenching pain. But even in the worst times, Biden was able to lean on the strength of his long, deep bonds with his family, on his faith, and on his deepening friendship with the man in the Oval Office, Barack Obama.
---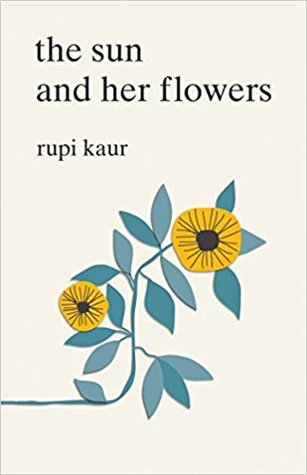 From Rupi Kaur, the #1 New York Times bestselling author of milk and honey, comes her long-awaited second collection of poetry. A vibrant and transcendent journey about growth and healing. Ancestry and honoring one's roots. Expatriation and rising up to find a home within yourself.
Divided into five chapters and illustrated by Kaur, the sun and her flowers is a journey of wilting, falling, rooting, rising, and blooming. A celebration of love in all its forms.
---
milk and honey is a collection of poetry and prose about survival. It is about the experience of violence, abuse, love, loss, and femininity. It is split into four chapters, and each chapter serves a different purpose, deals with a different pain, heals a different heartache. milk and honey takes readers through a journey of the most bitter moments in life and finds sweetness in them because there is sweetness everywhere if you are just willing to look.
---
From the author:
"For the last two years, I've interviewed more than 200 world-class performers for my podcast, The Tim Ferriss Show. The guests range from super celebs (Jamie Foxx, Arnold Schwarzenegger, etc.) and athletes (icons of powerlifting, gymnastics, surfing, etc.) to legendary Special Operations commanders and black-market biochemists. For most of my guests, it's the first time they've agreed to a two-to-three-hour interview. This unusual depth has helped make The Tim Ferriss Show the first business/interview podcast to pass 100 million downloads.
"This book contains the distilled tools, tactics, and 'inside baseball' you won't find anywhere else. It also includes new tips from past guests, and life lessons from new 'guests' you haven't met.
"What makes the show different is a relentless focus on actionable details. This is reflected in the questions. For example: What do these people do in the first sixty minutes of each morning? What do their workout routines look like, and why? What books have they gifted most to other people? What are the biggest wastes of time for novices in their field? What supplements do they take on a daily basis?
"I don't view myself as an interviewer. I view myself as an experimenter. If I can't test something and replicate results in the messy reality of everyday life, I'm not interested.
"Everything within these pages has been vetted, explored, and applied to my own life in some fashion. I've used dozens of the tactics and philosophies in high-stakes negotiations, high-risk environments, or large business dealings. The lessons have made me millions of dollars and saved me years of wasted effort and frustration.
"I created this book, my ultimate notebook of high-leverage tools, for myself. It's changed my life, and I hope the same for you."
---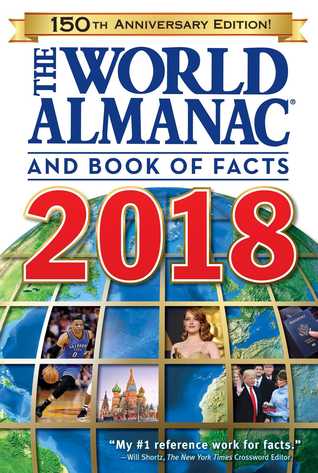 The World Almanac® and Book of Facts is America's top-selling reference book of all time, with more than 82 million copies sold. Since 1868, this compendium of information has been theauthoritative source for all your entertainment, reference, and learning needs. The 150th anniversary edition celebrates its illustrious history while keeping an eye on the future. Praised as a "treasure trove of political, economic, scientific and educational statistics and information" by The Wall Street Journal, The World Almanac and Book of Facts will answer all of your trivia needs—from history and sports to geography, pop culture, and much more.
---
An affair: it can rob a couple of their relationship, their happiness, their very identity. And yet, this extremely common human experience is so poorly understood. What are we to make of this time-honored taboo—universally forbidden yet universally practiced? Why do people cheat—even those in happy marriages? Why does an affair hurt so much? When we say infidelity, what exactly do we mean? Do our romantic expectations of marriage set us up for betrayal? Is there such a thing as an affair-proof marriage? Is it possible to love more than one person at once? Can an affair ever help a marriage? Perel weaves real-life case stories with incisive psychological and cultural analysis in this fast-paced and compelling book.
For the past ten years, Perel has traveled the globe and worked with hundreds of couples who have grappled with infidelity. Betrayal hurts, she writes, but it can be healed. An affair can even be the doorway to a new marriage—with the same person. With the right approach, couples can grow and learn from these tumultuous experiences, together or apart.
Affairs, she argues, have a lot to teach us about modern relationships—what we expect, what we think we want, and what we feel entitled to. They offer a unique window into our personal and cultural attitudes about love, lust, and commitment. Through examining illicit love from multiple angles, Perel invites readers into an honest, enlightened, and entertaining exploration of modern marriage in its many variations.
---
Maude Julien's childhood was defined by the iron grip of her father, who was convinced his daughter was destined for great deeds. His plan began when he adopted Maude's mother and indoctrinated her with his esoteric ideals. Her mission was to give him a daughter as blonde as she was, and then to take charge of the child's education. That child was Maude, on whom her father conducted his outrageous experiment—to raise the perfect 'super-human' being.
The three lived in an isolated mansion in northern France, where her father made her undergo endless horrifying endurance tests. Maude had to hold an electric fence without flinching. Her parents locked her in a cellar overnight and ordered her to sit still on a stool in the dark, contemplating death, while rats scurried around her feet.
How did this girl, with her loveless and lonely childhood, emerge so unscathed, so full of the empathy that was absent in her childhood? How did she manage to escape?
Maude was sustained by her love of nature and animals and her passion for literature. In writing this memoir, Maude Julien shows that it is possible to overcome severe trauma. She recounts her chilling and deeply moving story in a compelling and compassionate voice.
---
From the beet fields of North Dakota to the wilderness campgrounds of California to an Amazon warehouse in Texas, people who once might have kicked back to enjoy their sunset years are hard at work. Underwater on mortgages or finding that Social Security comes up short, they're hitting the road in astonishing numbers, forming a new community of nomads: RV and van-dwelling migrant laborers, or "workampers."
Building on her groundbreaking Harper's cover story, The End of Retirement, which brought attention to these formerly settled members of the middle class, Jessica Bruder follows one such RVer, Linda, between physically taxing seasonal jobs and reunions of her new van-dweller family, or "vanily." Bruder tells a compelling, eye-opening tale of both the economy's dark underbelly and the extraordinary resilience, creativity, and hope of these hardworking, quintessential Americans—many of them single women—who have traded rootedness for the dream of a better life.
---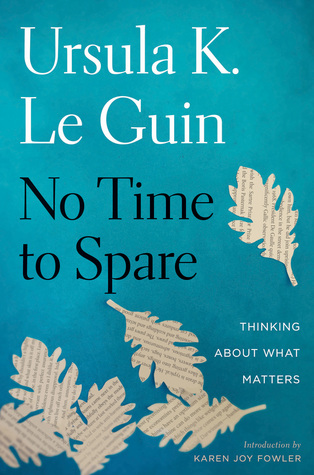 Ursula K. Le Guin has taken readers to imaginary worlds for decades. Now she's in the last great frontier of life, old age, and exploring new literary territory: the blog, a forum where her voice—sharp, witty, as compassionate as it is critical—shines. No Time to Spare collects the best of Ursula's blog, presenting perfectly crystallized dispatches on what matters to her now, her concerns with this world, and her wonder at it.
On the absurdity of denying your age, she says, "If I'm ninety and believe I'm forty-five, I'm headed for a very bad time trying to get out of the bathtub." On cultural perceptions of fantasy: "The direction of escape is toward freedom. So what is 'escapism' an accusation of?" On her new cat: "He still won't sit on a lap…I don't know if he ever will. He just doesn't accept the lap hypothesis." On breakfast: "Eating an egg from the shell takes not only practice, but resolution, even courage, possibly willingness to commit crime." And on all that is unknown, all that we discover as we muddle through life: "How rich we are in knowledge, and in all that lies around us yet to learn. Billionaires, all of us."
---
In 1917, Arthur Herman examines one crucial year and the two figures at its center who would set the course of modern world history: Woodrow Wilson and Vladimir Lenin. Though they were men of very different backgrounds and experiences, Herman reveals how Wilson and Lenin were very much alike. Both rose to supreme power, one through a democratic election; the other through violent revolution. Both transformed their countries by the policies they implemented, and the crucial decisions they made. Woodrow Wilson, a champion of democracy, capitalism, and the international order, steered America's involvement in World War I. Lenin, a communist revolutionary and advocate for the proletariat, lead the Bolsheviks' overthrow of Russia's earlier democratic revolution that toppled the Czar, and the establishment of a totalitarian Soviet Union.Men of opposing ideals and actions, each was idolized by millions-and vilified and feared by millions more. Though they would never meet, these two world leaders came to see in the other the evils of the world each sought to eradicate. In so doing, both would unleash the forces that still dominate our world, and that continue to shape its future from nationalism and Communism to today's maps of the Middle East, Asia, and Eastern Europe. In this incisive, fast-paced history, Herman brilliantly explores the birth of a potent rivalry between two men who rewrote the rules of geopolitics-and the moment, one hundred years ago, when our contemporary world began.
---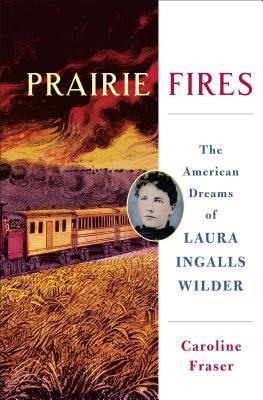 Millions of readers of Little House on the Prairie believe they know Laura Ingalls–the pioneer girl who survived blizzards and near-starvation on the Great Plains, and the woman who wrote the famous autobiographical books. But the true story of her life has never been fully told. The Little House books were not only fictionalized but brilliantly edited, a profound act of myth-making and self-transformation. Now, drawing on unpublished manuscripts, letters, diaries, and land and financial records, Caroline Fraser–the editor of the Library of America edition of the Little House series–masterfully fills in the gaps in Wilder's biography, setting the record straight regarding charges of ghostwriting that have swirled around the books and uncovering the grown-up story behind the most influential childhood epic of pioneer life.
Set against nearly a century of epochal change, from the Homestead Act and the Indian Wars to the Dust Bowl and the Great Depression, Wilder's dramatic life provides a unique perspective on American history and our national mythology of self-reliance. Settling on the frontier amidst land-rush speculation, Wilder's family encountered Biblical tribulations of locusts and drought, fire and ruin. Deep in debt after a series of personal tragedies, including the loss of a child and her husband's stroke, Wilder uprooted herself again, crisscrossing the country and turning to menial work to support her family. In middle age, she began writing a farm advice column, prodded by her self-taught journalist daughter. And at the age of sixty, after losing nearly everything in the Depression, she turned to children's books, recasting her hardscrabble childhood as a triumphal vision of homesteading–and achieving fame and fortune in the process, in one of the most astonishing rags-to-riches stories in American letters.
---
MEN TODAY face a growing health crisis. More than twenty million nationwide are affected by a prostate health issue, and more than two hundred thousand are diagnosed with prostate cancer every year. Many of these problems are preventable because they are related to the chronic diseases of age associated with poor health choices. Dr. H. Ballentine Carter is a preeminent expert in the diagnosis and management of prostate disease, and he believes that it's never too late—or too early—to make important changes to improve and maintain overall prostate health. Dr. Carter provides men of all ages the one resource that details what needs to be done when in crisis, but more important, he supplies crucial advice about how to prevent a prostate crisis from ever occurring.
Whether a man is in his twenties, thirties, or sixties, he is one day closer to being told he has a prostate problem. But positive lifestyle changes that incorporate diet, exercise, and health maintenance can significantly lower those odds. Filled with simple and nutritious recipes, easy-to-follow workout routines, and a straightforward approach to demystifying the complex medical jargon of prostate disease, The Whole Life Prostate Book is an empowering manual for maintaining optimal health throughout a man's life.
---