Become our friend on Goodreads and tell us what you read!
New Fiction!
(Scroll down for Nonfiction!)
During World War II, Irena Sendler, a Polish Catholic social worker, organized a rescue network of fellow social workers to save 2,500 Jewish children from certain death in the Warsaw ghetto. Incredibly, after the war her heroism, like that of many others, was suppressed by communist Poland and remained virtually unknown for 60 years. Unknown, that is, until three high school girls from an economically depressed, rural school district in southeast Kansas stumbled upon a tantalizing reference to Sendler's rescues, which they fashioned into a history project, a play they called Life in a Jar. Their innocent drama was first seen in Kansas, then the Midwest, then New York, Los Angeles, Montreal, and finally Poland, where they elevated Irena Sendler to a national hero, championing her legacy of tolerance and respect for all people. Life in a Jar: The Irena Sendler Project is a Holocaust history and more. It is the inspirational story of Protestant students from Kansas, each carrying her own painful burden, each called in her own complex way to the history of a Catholic woman who knocked on Jewish doors in the Warsaw ghetto and, in Sendler's own words, "tried to talk the mothers out of their children." Inspired by Irena Sendler, they are living examples of the power of one person to change the world and models for young people everywhere.
---
E L James revisits the world of Fifty Shades with a deeper and darker take on the love story that has enthralled millions of readers around the globe.
Their scorching, sensual affair ended in heartbreak and recrimination, but Christian Grey cannot get Anastasia Steele out of his mind, or his blood. Determined to win her back, he tries to suppress his darkest desires and his need for complete control, and to love Ana on her own terms.
But the horrors of his childhood still haunt him, and Ana's scheming boss, Jack Hyde, clearly wants her for himself. Can Christian's confidant and therapist, Dr. Flynn, help him face down his demons? Or will the possessiveness of Elena, his seducer, and the deranged devotion of Leila, his former submissive, drag Christian down into the past?
And if Christian does win Ana back, can a man so dark and damaged ever hope to keep her?
---
Henry Dunbar, the once all-powerful head of a global corporation, is not having a good day. In his dotage he handed over care of the family firm to his two eldest daughters, Abby and Megan. But relations quickly soured, leaving him doubting the wisdom of past decisions…
Now imprisoned in a care home in the Lake District with only a demented alcoholic comedian as company, Dunbar starts planning his escape. As he flees into the hills, his family is hot on his heels. But who will find him first, his beloved youngest daughter, Florence, or the tigresses Abby and Megan, so keen to divest him of his estate?
Edward St Aubyn is renowned for his masterwork, the five Melrose novels, which dissect with savage and beautiful precision the agonies of family life. His take on King Lear, Shakespeare's most devastating family story, is an excoriating novel for and of our times – an examination of power, money and the value of forgiveness.
---
A warm, feel-good novel about the importance of finding a place where you belong – perfect for fans of Maeve Binchy.
Local librarian Hanna Casey is wondering where it all went wrong … Driving her mobile library van through Finfarran's farms and villages, she tries not to think of the sophisticated London life she abandoned when she left her cheating husband. Or that she's now stuck in her crotchety mum's spare bedroom.
With her daughter Jazz travelling the world and her relationship with her mother growing increasingly fraught, Hanna decides to reclaim her independence. Then, when the threatened closure of her library puts her plans in jeopardy, she finds herself leading a battle to restore the heart and soul of the fragmented community. Will she also find the new life she's been searching for?
---
It began on New Year's Eve.
The sickness came on suddenly, and spread quickly. The fear spread even faster. Within weeks, everything people counted on began to fail them. The electrical grid sputtered; law and government collapsed—and more than half of the world's population was decimated.
Where there had been order, there was now chaos. And as the power of science and technology receded, magic rose up in its place. Some of it is good, like the witchcraft worked by Lana Bingham, practicing in the loft apartment she shares with her lover, Max. Some of it is unimaginably evil, and it can lurk anywhere, around a corner, in fetid tunnels beneath the river—or in the ones you know and love the most.
As word spreads that neither the immune nor the gifted are safe from the authorities who patrol the ravaged streets, and with nothing left to count on but each other, Lana and Max make their way out of a wrecked New York City. At the same time, other travelers are heading west too, into a new frontier. Chuck, a tech genius trying to hack his way through a world gone offline. Arlys, a journalist who has lost her audience but uses pen and paper to record the truth. Fred, her young colleague, possessed of burgeoning abilities and an optimism that seems out of place in this bleak landscape. And Rachel and Jonah, a resourceful doctor and a paramedic who fend off despair with their determination to keep a young mother and three infants in their care alive.
In a world of survivors where every stranger encountered could be either a savage or a savior, none of them knows exactly where they are heading, or why. But a purpose awaits them that will shape their lives and the lives of all those who remain.
The end has come. The beginning comes next.
---
Ellery Hathaway knows a thing or two about serial killers, but not through her police training. She's an officer in sleepy Woodbury, MA, where a bicycle theft still makes the newspapers. No one there knows she was once victim number seventeen in the grisly story of serial killer Francis Michael Coben. The only victim who lived.
When three people disappear from her town in three years, all around her birthday—the day she was kidnapped so long ago—Ellery fears someone knows her secret. Someone very dangerous. Her superiors dismiss her concerns, but Ellery knows the vanishing season is coming and anyone could be next. She contacts the one man she knows will believe her: the FBI agent who saved her from a killer's closet all those years ago.
Agent Reed Markham made his name and fame on the back of the Coben case, but his fortunes have since turned. His marriage is in shambles, his bosses think he's washed up, and worst of all, he blew a major investigation. When Ellery calls him, he can't help but wonder: sure, he rescued her, but was she ever truly saved? His greatest triumph is Ellery's waking nightmare, and now both of them are about to be sucked into the past, back to the case that made them…with a killer who can't let go.
---
Orphaned and cast out as a witch by her village, Vasya's options are few: resign herself to life in a convent, or allow her older sister to make her a match with a Moscovite prince. Both doom her to life in a tower, cut off from the vast world she longs to explore. So instead she chooses adventure, disguising herself as a boy and riding her horse into the woods. When a battle with some bandits who have been terrorizing the countryside earns her the admiration of the Grand Prince of Moscow, she must carefully guard the secret of her gender to remain in his good graces—even as she realizes his kingdom is under threat from mysterious forces only she will be able to stop.
---
Off the coast of Brazil, a team of scientists discovers a horror like no other, an island where all life has been eradicated, consumed and possessed by a species beyond imagination. Before they can report their discovery, a mysterious agency attacks the group, killing them all, save one, an entomologist, an expert on venomous creatures, Professor Ken Matsui from Cornell University.
Strangest of all, this inexplicable threat traces back to a terrifying secret buried a century ago beneath the National Mall: a cache of bones preserved in amber. The artifact was hidden away by a cabal of scientists—led by Alexander Graham Bell—to protect humankind. But they dared not destroy it, for the object also holds an astonishing promise for the future: the very secret of life after death.
Yet, nothing stays buried forever. An ancient horror—dormant in the marrow of those preserved bones—is free once more, nursed and developed into a weapon of incalculable strength and malignancy, ready to wreak havoc on an unsuspecting world.
To stop its spread, Commander Grayson Pierce of Sigma Force must survive a direct attack on the island of Maui. To be there first has always been the core mission of Sigma Force, a covert team forged to be America's front line against emerging threats. But this time, even Sigma may not be able to decipher this deadly mystery, one that traces back to the founding of the Smithsonian Institution.
With each new discovery, the menace they hunt is changing, growing, spreading—adapting and surviving every attempt to stop it from reconquering a world it once ruled. And each transformation makes it stronger . . . and smarter.
---
The only legitimate child of Lord Byron, the most brilliant, revered, and scandalous of the Romantic poets, Ada was destined for fame long before her birth. Estranged from Ada's father, who was infamously "mad, bad, and dangerous to know," Ada's mathematician mother is determined to save her only child from her perilous Byron heritage. Banishing fairy tales and make-believe from the nursery, Ada's mother provides her daughter with a rigorous education grounded in mathematics and science. Any troubling spark of imagination—or worse yet, passion or poetry—is promptly extinguished. Or so her mother believes.
When Ada is introduced into London society as a highly eligible young heiress, she at last discovers the intellectual and social circles she has craved all her life. Little does she realize that her delightful new friendship with inventor Charles Babbage—brilliant, charming, and occasionally curmudgeonly—will shape her destiny. Intrigued by the prototype of his first calculating machine, the Difference Engine, and enthralled by the plans for his even more advanced Analytical Engine, Ada resolves to help Babbage realize his extraordinary vision, unique in her understanding of how his invention could transform the world. All the while, she passionately studies mathematics—ignoring skeptics who consider it an unusual, even unhealthy pursuit for a woman—falls in love, discovers the shocking secrets behind her parents' estrangement, and comes to terms with the unquenchable fire of her imagination.
---
A moving novel about three people who find their way back from loss and loneliness to a different kind of happiness. Arthur, a widow, meets Maddy, a troubled teenage girl who is avoiding school by hiding out at the cemetery, where Arthur goes every day for lunch to have imaginary conversations with his late wife, and think about the lives of others. The two strike up a friendship that draws them out of isolation. Maddy gives Arthur the name Truluv, for his loving and positive responses to every outrageous thing she says or does. With Arthur's nosy neighbor Lucille, they create a loving and unconventional family, proving that life's most precious moments are sweeter when shared.
---
This time it's Alex Cross on trial.

Alex Cross is on the wrong side of the law. Serving a suspension from the force while he awaits trial for murder, Cross has been branded as a trigger-happy cop, another bad apple walking the streets with a gun, an accusation that Cross will do anything to refute. To make himself feel useful again, Cross opens a counseling office in the basement of his home. When his former partner Sampson shows up needing his help, Cross jumps at the chance, even if it may end up costing him what's left of his career. When a string of young, blonde women go missing, the investigation leads Cross and Sampson to the most depraved, darkest corners of the internet. Struggling to prove his own innocence and uncover the truth lurking online, Cross must risk everything to save his most at-risk patient of all…himself. 
---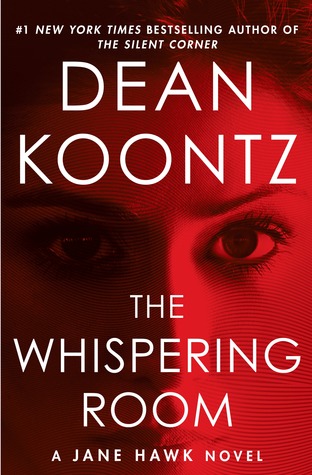 These are the words that ring in the mind of mild-mannered, beloved schoolteacher Cora Gundersun–just before she takes her own life, and many others', in a shocking act of carnage. When the disturbing contents of her secret journal are discovered, it seems certain that she must have been insane. But Jane Hawk knows better.
In the wake of her husband's inexplicable suicide–and the equally mysterious deaths of scores of other exemplary individuals–Jane picks up the trail of a secret cabal of powerful players who think themselves above the law and beyond punishment. But these ruthless people bent on hijacking America's future for their own monstrous ends never banked on a highly trained FBI agent willing to go rogue–and become the nation's most wanted fugitive–in order to derail their insidious plans to gain absolute power with a terrifying technological breakthrough.
Driven by love for her lost husband and by fear for the five-year-old son she has sent into hiding, Jane Hawk has become an unstoppable predator. Those she is hunting will have nowhere to run when her shadow falls across them.
---
Sybil and Blake Gregory are the quintessential 21st century power couple: she a cutting-edge interior designer; he a forward-thinking top business analyst. They revel in the privileged, ordered life they lead in Manhattan with their children, teenagers Andrew and Caroline and 6-year-old Charlie. But when Blake accepts a once-in-a-lifetime opportunity to become the CEO of a visionary social media start-up in San Francisco—and then buys a magnificent turn-of-the-20th-century Pacific Heights mansion on impulse—all that will change. Built by the Butterfields, a prominent banking family, abandoned for decades, the grand house retains its exquisite furnishings and aura of long ago elegance. And that's not all it retains. The modern Gregorys are about to meet their ghostly long ago counterparts….
---
Will Robie and Jessica Reel are two of the most lethal people alive. They're the ones the government calls in when the utmost secrecy is required to take out those who plot violence and mass destruction against the United States. And through every mission, one man has always had their backs: their handler, code-named Blue Man.
But now, Blue Man is missing.
Last seen in rural Colorado, Blue Man had taken a rare vacation to go fly fishing in his hometown when he disappeared off the grid. With no communications since, the team can't help but fear the worst.
Sent to investigate, Robie and Reel arrive in the small town of Grand to discover that it has its own share of problems. A stagnant local economy and a woefully understaffed police force have made this small community a magnet for crime, drugs, and a growing number of militant fringe groups.
But lying in wait in Grand is an even more insidious and sweeping threat, one that may shake the very foundations of America. And when Robie and Reel find themselves up against an adversary with superior firepower and a home-court advantage, they'll be lucky if they make it out alive, with or without Blue Man…
---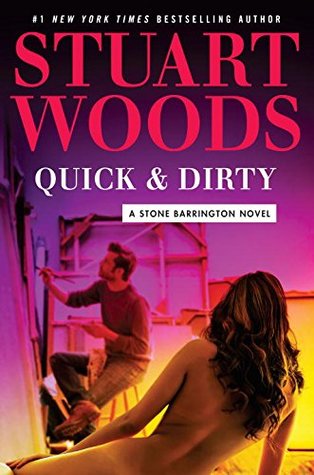 When a slam-bang of a crime brings a beautiful new client into Stone Barrington's office, little does he know his association with her will pull him into a far more serpentine mystery in the exclusive world of art. It's a business where a rare find could make a career–and a collection–and mistakes in judgment are costly. And under its genteel and high-minded veneer lurks an assortment of grifters and malfeasants eager to cash in on the game.
In the upscale world of New York City's luxury penthouses and grand Hamptons estates, it will take a man of Stone Barrington's careful discernment and well-honed instincts to get to the truth without ruffling the wrong feathers . . . because when it comes to priceless and irreplaceable works of art, the money and reputations at stake are worth killing for.
---
New Nonfiction!
Maude Julien's childhood was defined by the iron grip of her father, who was convinced his daughter was destined for great deeds. His plan began when he adopted Maude's mother and indoctrinated her with his esoteric ideals. Her mission was to give him a daughter as blonde as she was, and then to take charge of the child's education. That child was Maude, on whom her father conducted his outrageous experiment—to raise the perfect 'super-human' being.
The three lived in an isolated mansion in northern France, where her father made her undergo endless horrifying endurance tests. Maude had to hold an electric fence without flinching. Her parents locked her in a cellar overnight and ordered her to sit still on a stool in the dark, contemplating death, while rats scurried around her feet.
How did this girl, with her loveless and lonely childhood, emerge so unscathed, so full of the empathy that was absent in her childhood? How did she manage to escape?
Maude was sustained by her love of nature and animals and her passion for literature. In writing this memoir, Maude Julien shows that it is possible to overcome severe trauma. She recounts her chilling and deeply moving story in a compelling and compassionate voice.
---
From the beet fields of North Dakota to the wilderness campgrounds of California to an Amazon warehouse in Texas, people who once might have kicked back to enjoy their sunset years are hard at work. Underwater on mortgages or finding that Social Security comes up short, they're hitting the road in astonishing numbers, forming a new community of nomads: RV and van-dwelling migrant laborers, or "workampers."
Building on her groundbreaking Harper's cover story, The End of Retirement, which brought attention to these formerly settled members of the middle class, Jessica Bruder follows one such RVer, Linda, between physically taxing seasonal jobs and reunions of her new van-dweller family, or "vanily." Bruder tells a compelling, eye-opening tale of both the economy's dark underbelly and the extraordinary resilience, creativity, and hope of these hardworking, quintessential Americans—many of them single women—who have traded rootedness for the dream of a better life.
---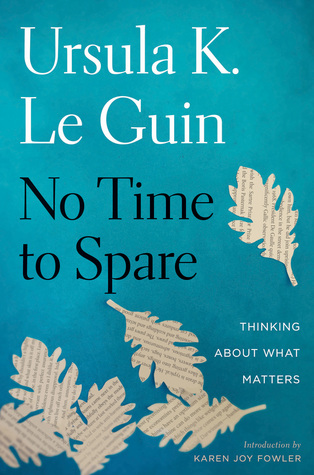 Ursula K. Le Guin has taken readers to imaginary worlds for decades. Now she's in the last great frontier of life, old age, and exploring new literary territory: the blog, a forum where her voice—sharp, witty, as compassionate as it is critical—shines. No Time to Spare collects the best of Ursula's blog, presenting perfectly crystallized dispatches on what matters to her now, her concerns with this world, and her wonder at it.
On the absurdity of denying your age, she says, "If I'm ninety and believe I'm forty-five, I'm headed for a very bad time trying to get out of the bathtub." On cultural perceptions of fantasy: "The direction of escape is toward freedom. So what is 'escapism' an accusation of?" On her new cat: "He still won't sit on a lap…I don't know if he ever will. He just doesn't accept the lap hypothesis." On breakfast: "Eating an egg from the shell takes not only practice, but resolution, even courage, possibly willingness to commit crime." And on all that is unknown, all that we discover as we muddle through life: "How rich we are in knowledge, and in all that lies around us yet to learn. Billionaires, all of us."
---
In 1917, Arthur Herman examines one crucial year and the two figures at its center who would set the course of modern world history: Woodrow Wilson and Vladimir Lenin. Though they were men of very different backgrounds and experiences, Herman reveals how Wilson and Lenin were very much alike. Both rose to supreme power, one through a democratic election; the other through violent revolution. Both transformed their countries by the policies they implemented, and the crucial decisions they made. Woodrow Wilson, a champion of democracy, capitalism, and the international order, steered America's involvement in World War I. Lenin, a communist revolutionary and advocate for the proletariat, lead the Bolsheviks' overthrow of Russia's earlier democratic revolution that toppled the Czar, and the establishment of a totalitarian Soviet Union.Men of opposing ideals and actions, each was idolized by millions-and vilified and feared by millions more. Though they would never meet, these two world leaders came to see in the other the evils of the world each sought to eradicate. In so doing, both would unleash the forces that still dominate our world, and that continue to shape its future from nationalism and Communism to today's maps of the Middle East, Asia, and Eastern Europe. In this incisive, fast-paced history, Herman brilliantly explores the birth of a potent rivalry between two men who rewrote the rules of geopolitics-and the moment, one hundred years ago, when our contemporary world began.
---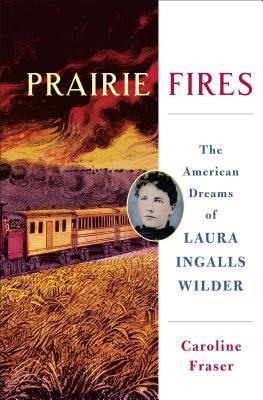 Millions of readers of Little House on the Prairie believe they know Laura Ingalls–the pioneer girl who survived blizzards and near-starvation on the Great Plains, and the woman who wrote the famous autobiographical books. But the true story of her life has never been fully told. The Little House books were not only fictionalized but brilliantly edited, a profound act of myth-making and self-transformation. Now, drawing on unpublished manuscripts, letters, diaries, and land and financial records, Caroline Fraser–the editor of the Library of America edition of the Little House series–masterfully fills in the gaps in Wilder's biography, setting the record straight regarding charges of ghostwriting that have swirled around the books and uncovering the grown-up story behind the most influential childhood epic of pioneer life.
Set against nearly a century of epochal change, from the Homestead Act and the Indian Wars to the Dust Bowl and the Great Depression, Wilder's dramatic life provides a unique perspective on American history and our national mythology of self-reliance. Settling on the frontier amidst land-rush speculation, Wilder's family encountered Biblical tribulations of locusts and drought, fire and ruin. Deep in debt after a series of personal tragedies, including the loss of a child and her husband's stroke, Wilder uprooted herself again, crisscrossing the country and turning to menial work to support her family. In middle age, she began writing a farm advice column, prodded by her self-taught journalist daughter. And at the age of sixty, after losing nearly everything in the Depression, she turned to children's books, recasting her hardscrabble childhood as a triumphal vision of homesteading–and achieving fame and fortune in the process, in one of the most astonishing rags-to-riches stories in American letters.
---
MEN TODAY face a growing health crisis. More than twenty million nationwide are affected by a prostate health issue, and more than two hundred thousand are diagnosed with prostate cancer every year. Many of these problems are preventable because they are related to the chronic diseases of age associated with poor health choices. Dr. H. Ballentine Carter is a preeminent expert in the diagnosis and management of prostate disease, and he believes that it's never too late—or too early—to make important changes to improve and maintain overall prostate health. Dr. Carter provides men of all ages the one resource that details what needs to be done when in crisis, but more important, he supplies crucial advice about how to prevent a prostate crisis from ever occurring.
Whether a man is in his twenties, thirties, or sixties, he is one day closer to being told he has a prostate problem. But positive lifestyle changes that incorporate diet, exercise, and health maintenance can significantly lower those odds. Filled with simple and nutritious recipes, easy-to-follow workout routines, and a straightforward approach to demystifying the complex medical jargon of prostate disease, The Whole Life Prostate Book is an empowering manual for maintaining optimal health throughout a man's life.
---
Acquired by the United States from Spain in 1898, Puerto Rico has a peculiar status among Latin American and Caribbean countries. As a Commonwealth, the island enjoys limited autonomy over local matters, but the U.S. has dominated it militarily, politically, and economically for much of its recent history. Though they are U.S. citizens, Puerto Ricans do not have their own voting representatives in Congress and cannot vote in presidential elections (although they are able to participate in the primaries). The island's status is a topic of perennial debate, both within and beyond its shores. In recent months its colossal public debt has sparked an economic crisis that has catapulted it onto the national stage and intensified the exodus to the U.S., bringing to the fore many of the unresolved remnants of its colonial history.
Puerto Rico: What Everyone Needs to Know? provides a succinct, authoritative introduction to the Island's rich history, culture, politics, and economy. The book begins with a historical overview of Puerto Rico during the Spanish colonial period (1493-1898). It then focuses on the first five decades of the U.S. colonial regime, particularly its efforts to control local, political, and economic institutions as well as to "Americanize" the Island's culture and language. Jorge Duany delves into the demographic, economic, political, and cultural features of contemporary Puerto Rico-the inner workings of the Commonwealth government and the island's relationship to the United States. Lastly, the book explores the massive population displacement that has characterized Puerto Rico since the mid-20th century.
---
Ever since Fidel Castro assumed power in Cuba in 1959, Americans have obsessed about the nation ninety miles south of the Florida Keys. America's fixation on the tropical socialist republic has only grown over the years, fueled in part by successive waves of Cuban immigration and Castro's larger-than-life persona. Cubans are now a major ethnic group in Florida, and the exile community is so powerful that every American president has curried favor with it. But what do most Americans really know about Cuba itself?
In this third edition of the widely hailed Cuba: What Everyone Needs to Know?, Julia Sweig updates her concise and remarkably accessible portrait of the small island nation. This edition contains a new foreword that discusses developments since Obama and Raul Castro announced the normalization of US-Cuba relations and restored formal diplomatic ties. A new final chapter discusses how normalization came to pass and covers Pope Francis' visit to Cuba, where he met with Fidel and Raul Castro. Expansive in coverage and authoritative in scope, the book looks back over Cuba's history since the Spanish American War before shifting to recent times. Focusing equally on Cuba's role in world affairs and its own social and political transformations, Sweig divides the book chronologically into the pre-Fidel era, the period between the 1959 revolution and the fall of the Soviet Union, the post-Cold War era, and — finally — the post-Fidel era.
---
At a moment of crisis over our national identity, Dan Rather has been reflecting—and writing passionately almost every day on social media—about the world we live in, what our core ideals have been and should be, and what it means to be an American. Now, in a collection of wholly original essays, the venerated television journalist celebrates our shared values and what matters most in our great country, and shows us what patriotism looks like. Writing about the institutions that sustain us, such as public libraries, public schools, and national parks; the values that have transformed us, such as the struggle for civil rights; and the drive toward science and innovation that has made the United States great, Rather will bring to bear his decades of experience on the frontlines of the world's biggest stories, and offer readers a way forward.
After a career spent as reporter and anchor for CBS News, where he interviewed every living President since Eisenhower and was on the ground for every major event, from the assassination of John F. Kennedy to Watergate to 9/11, Rather has in the last year also become a hugely popular voice of reason on social media, with nearly two million Facebook followers and an engaged new audience who help to make many of his posts go viral. With his famously plainspoken voice and a fundamental sense of hope, Dan Rather has written the book to inspire conversation and listening, and to remind us all how we are ultimately united.
---
With his bestselling biography Jack Kennedy, Chris Matthews shared a new look of one of America's most beloved Presidents and the patriotic spirit that defined him. Now, with Bobby, Matthews returns with a gripping, in-depth, behind-the-scenes portrait of one of the great figures of the American twentieth century.
Overlooked by his father, and overshadowed by his war-hero brother, Bobby Kennedy was the perpetual underdog. When he had the chance to become a naval officer like Jack, Bobby turned it down, choosing instead to join the Navy as a common sailor. It was a life changing experience that led him to connect with voters from all walks of life: young or old, black or white, rich or poor. They were the people who turned out for him in his 1968 campaign. RFK would prove himself to be the rarest of politicians—both a pragmatist who knew how to get the job done and an unwavering idealist who could inspire millions.
Drawing on extensive research and interviews, Matthews pulls back the curtain on the public and private worlds of Robert Francis Kennedy. He shines a light on all the important moments of his life, from his early years and his start in politics to his crucial role as attorney general in his brother's administration and his tragic run for president. This definitive book brings Bobby Kennedy to life like never before and is destined to become a political classic.
---
In his epic new book, Russell Shorto takes us back to the founding of the American nation, drawing on diaries, letters and autobiographies to flesh out six lives that cast the era in a fresh new light. They include an African man who freed himself and his family from slavery, a rebellious young woman who abandoned her abusive husband to chart her own course and a certain Mr. Washington, who was admired for his social graces but harshly criticized for his often-disastrous military strategy.
Through these lives we understand that the revolution was fought over the meaning of individual freedom, a philosophical idea that became a force for violent change. A powerful narrative and a brilliant defense of American values, Revolution Songmakes the compelling case that the American Revolution is still being fought today and that its ideals are worth defending.
---
Peel back the cheerful facade that parents present, and you'll find that many are worried about their teens.
Mood swings, impulsiveness, poor judgment, and other problems peak in these years. Add stressors such as screen addiction, cyberbullying, increasing academic demands, and time-consuming athletic commitments . . . and it's no surprise that today's teenagers rank as the most anxious in 50 years.
Parents long to help, but how? Based on a career counseling kids and their parents, psychologist Michael Bradley locates the most powerful protective trait: resilience. Teens with this crucial quality know how to handle difficulty, overcome obstacles, and bounce back from setbacks.
Packed with insights from neuroscience and psychology, real-life case studies, and a dose of humor, Crazy-Stressed sheds light on the teen brain and offers a wealth of resiliency-boosting strategies. In it, Dr. Bradley reveals:
What kids these days are really going through ● Ways to strengthen the seven skills every teen needs to survive and thrive ● What-to-do-when suggestions for common behavior, school, and social issues ● Tactics for coping with conflict, teaching consequences, improving communication, staying connected, and more
---
One ordinary spring morning in Reykjavik, Iceland, Thordis Elva kisses her son and partner goodbye before boarding a plane to do a remarkable thing: fly seven-thousand miles to South Africa to confront the man who raped her when she was just sixteen. Meanwhile, in Sydney, Australia, Tom Stranger nervously embarks on an equally life-changing journey to meet Thordis, wondering whether he is worthy of this milestone. After exchanging hundreds of searingly honest email messages over eight years, Thordis and Tom decided it was time to speak face to face. Coming from opposite sides of the globe, they meet in the middle, in Cape Town, South Africa, a country that is no stranger to violence and the healing power of forgiveness.
South of Forgiveness is an unprecedented collaboration between a survivor and a perpetrator, each equally committed to exploring the darkest moment of their lives. It is a true story about being bent but not broken, facing fear with courage, and finding hope even in the most wounded of places. Personable, accessible, and compelling, this is an intense and refreshing look at a gendered violence, rape culture, personal responsibility, and the effect that patriarchal cultures have on both men and women.
---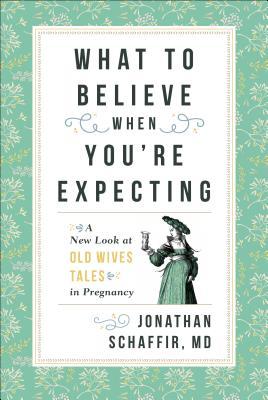 Pregnant women encounter advice from many directions about how to have a healthy pregnancy – not only from health care providers, but from relatives, friends, and the Internet. Some of these pieces of advice (on topics that range from inducing labor to telling the baby's gender to improving breastfeeding) have been handed down from woman to woman for generations, and don't appear in any medical textbooks. Dr. Jonathan Schaffir explores the origins of these old wives' tales, and examines the medical evidence that proves which ones may be useful and which ones are just entertaining. On topics ranging from getting pregnant to the best way to recover from childbirth, the book settles the questions of what a woman should believe when she hears such advice.
---
For FDR, politics was a far more interesting and fulfilling pursuit than the management of family fortunes or the indulgence of personal pleasure, and by the time he became president, he had commanded the love and affection of millions of people. While all Roosevelt's biographers agree that the onset of polio at the age of thirty-nine endowed him with a much greater sense of humanity, Dallek sees the affliction as an insufficient explanation for his transformation into a masterful politician who would win an unprecedented four presidential terms, initiate landmark reforms that changed the American industrial system, and transform an isolationist country into an international superpower.
---
From the author: Above all else, I want you to think for yourself—to decide 1) what you want, 2) what is true and 3) what to do about it. I want you to do that in a clear-headed thoughtful way, so that you get what you want. I wrote this book to help you do that. I am going to ask only two things of you—1) that you be open-minded and 2) that you honestly answer some questions about what you want, what is true and what you want to do about it. If you do these things, I believe that you will get a lot out of this book. If you can't do these things, you should reflect on why that is, because you probably have discovered one of your greatest impediments to getting what you want out of life.
---
Republican President William McKinley in his two terms as president (1897 – 1901) transformed America. He established the US as an imperial power. Although he does not register large in either public memory or in historians' rankings, in this revealing account, Robert W. Merry unfolds the mystery of how this bland man managed so much powerful change.
McKinley settled decades of monetary controversy by taking the country to a strict gold standard; in the Spanish-American war he kicked Spain out of the Caribbean and liberated Cuba from Spain; in the Pacific he acquired Hawaii and the Philippines through war and diplomacy; he developed the doctrine of "fair trade"; forced the "Open Door" to China; forged our "special relationship" with Great Britain. In short, he established the non-colonial imperialism that took America into global preeminence. He expanded executive power and managed public opinion through his quiet manipulation of the press. McKinley paved the way for the bold and flamboyant leadership of his famous successor, Teddy Roosevelt, who built on his accomplishments (and got credit for them).
---
A new Ku Klux Klan arose in the early 1920s, a less violent but equally virulent descendant of the relatively small, terrorist Klan of the 1870s. Unknown to most Americans today, this "second Klan" largely flourished above the Mason-Dixon Line—its army of four-to-six-million members spanning the continent from New Jersey to Oregon, its ideology of intolerance shaping the course of mainstream national politics throughout the twentieth century.
As prize-winning historian Linda Gordon demonstrates, the second Klan's enemies included Catholics and Jews as well as African Americans. Its bigotry differed in intensity but not in kind from that of millions of other WASP Americans. Its membership, limited to white Protestant native-born citizens, was entirely respectable, drawn from small businesspeople, farmers, craftsmen, and professionals, and including about 1.5 million women. For many Klanspeople, membership simultaneously reflected a protest against an increasingly urban society and provided an entrée into the new middle class.  As Gordon shows, the themes of 1920s Klan ideology were not aberrant, but an indelible part of American history: its "100% Americanism" and fake news, broadcast by charismatic speakers, preachers, and columnists, became part of the national fabric. Its spokespeople vilified big-city liberals, "money-grubbing Jews," "Pope-worshipping Irish," and intellectuals for promoting jazz, drinking, and cars (because they provided the young with sexual privacy).
---
situation by pushing further into the realm of science, especially fields such as evolutionary biology, neuroscience, and anthropology.
---