New Picture Books Just In!
Malala's first picture book will inspire young readers everywhere to find the magic all around them.
As a child in Pakistan, Malala made a wish for a magic pencil. She would use it to make everyone happy, to erase the smell of garbage from her city, to sleep an extra hour in the morning. But as she grew older, Malala saw that there were more important things to wish for. She saw a world that needed fixing. And even if she never found a magic pencil, Malala realized that she could still work hard every day to make her wishes come true.
This beautifully illustrated volume tells Malala's story for a younger audience and shows them the worldview that allowed Malala to hold on to hope even in the most difficult of times.
---
Zoos take care of animals and welcome visitors of all ages, but that's not all zoos do. Author Patricia Newman and photographer Annie Crawley bring readers behind the scenes at three zoos to meet scientists working to save endangered animals.
Meredith Bastian's experiences studying wild orangutans help educate both zoo visitors and the zoo workers who care for captive orangutans. Jeff Baughman breeds black-footed ferrets and reintroduces them into the wild. And Rachel Santymire examines poop from black rhinoceroses at the zoo and in their natural habitat to benefit all black rhinos. Find out how zoo scientists are helping us learn more about these remarkable, at-risk species before it's too late!
---
In this inspiring, mouthwatering story, get to know Chef Joyce Chen who is famous for popularizing Chinese food in the northeastern United States.
How far can an apron,
a bowl, or a book
take one small Chinese girl
with a passion to cook?
From peach blossom Beijing,
to crisp Cambridge snow,
how far will her dumpling dreams
help Joyce Chen go? 
Carrie Clickard's delectable rhymes tell the story of how Joyce Chen, a girl born in Communist China, immigrated to the United States and popularized Chinese cooking. Illustrator Katy Wu brings this inspiring story beautifully and deliciously to life.
---
Hugo proves once and for all that great things come in small packages.
For Hugo isn't just a hamster. He's also a great cook, a fast runner, a slow eater, and a fantastic dancer. However, what Hugo wants most of all is to be a firefighter. And even though Hugo worries that he's too small to fight fires, he learns that just because something is difficult, it doesn't mean he won't try his hardest to achieve his dream.
---
Take a journey through the seasons and years as we follow the seed's transformation from a seedling to a sapling, then a young tree, until it becomes a large tree with its branches and roots filling the page.
As the tree grows, it is joined by well-loved woodland creatures – squirrels and rabbits, butterflies and owls – who make it their home. Beautiful and evocative, It Starts With a Seed is a factual story that will touch children with its simple, enchanting message of life and growth.
---
Vincent can't sleep . . .
out, out, out he runs! 
flying through the garden–marigold, geranium, blackberry, raspberry–
past the church with its tall steeple, down rolling hills and sandy paths meant for sheep, 
He dives at last into the velvety, violet heath, snuggles under a blanket of sapphire sky,
and looks up, up, up . . . to visit with the stars.
Vincent van Gogh often found himself unable to sleep and wandered under starlit skies. Those nighttime experiences provided the inspiration for many of his paintings, including his most famous, The Starry Night. Van Gogh sold only one painting in his lifetime–but he continued to pursue his unique vision, and ultimately became one of the most beloved artists of all time.
---
What better way to encourage a little one to sleep than with a soothing rhyme and image after image of sleeping animals! This gentle picture book introduces the sleeping habits of many animals—from puppies to whales—and compares them to the sometimes-unusual habits of human babies. In backpacks, on knees, in cradles or trees, sweet babies can sleep anywhere!
---
Every day, lumberjack Jim Hickory heads into the forest with his trusty ax and chops down trees. Unfortunately, all sorts of creatures, including a bird, a porcupine, and a beaver, lose their homes in the process, so Jim gives them a home in his beard — until one day it all gets to be too much. Time for Jim to come up with a better solution! This funny story carries a green message.
---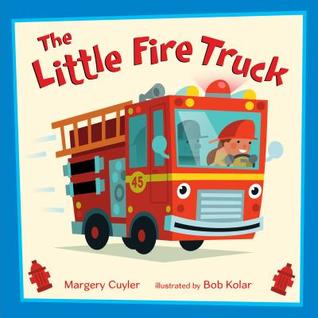 Join firefighter Jill and her fearless little fire truck as they zip all over town to put out smoky fires and rescue those in need, with the help of the fire crew in this picture book companion to The Little Dump Truck and The Little School Bus. There's lots of challenging work to do, but this trusty team is always ready to rescue!
---
On a sunny, summer day, a young boy and his father assemble the ingredients for a homemade pizza. From gathering fresh garden herbs to rolling out the dough for a crust to spreading on sauce and cheese, this picture book leads young chefs step-by-step through the process of making a favorite meal. A pizza recipe completes Melissa Iwai's appealing preschool offering, Pizza Day.
---
Experience the adorable first adventures of childhood with this picture book from bestselling author Charles Ghigna and celebrated illustrator Lori Joy Smith. From the first slip down a slide to the first time picking out a book to read, this rollicking narrative takes readers on a journey of discovery into the memorable firsts in a child's world. A story that will be enjoyed by the whole family, from the youngest, eager to experience their own adventures, to the oldest, so proud to watch them grow.