Celebrated author and artist Demi beautifully portrays the life and story of Marie Curie, the revolutionary scientist and winner of two Nobel Prizes.
Maria Salomea Sklodowaska was born on November 7, 1867. Her family called her Manya, but the world would remember her by another name: Marie Curie, one of the greatest scientists who ever lived.
In a time when few women attended college, Marie earned degrees in physics and mathematics and went on to discover two elements: radium and polonium. She also invented a new word along the way: radioactive. This book celebrates her momentous achievements while also educating its readers about her scientific accomplishments and their implications.
---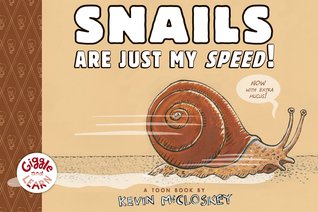 Snails might seem simple – after all, they're just one shell and a whole lot of slime. But these slow, squishy creatures are more complicated than they appear! Did you know snails build roads like engineers, shoot arrows like archers, and go undercover in camouflage like spies? Did you know they can be smaller than a seed or bigger than a grown-up's hand? Author Kevin McCloskey mixes snail science, art, and hilarity for the newest book in his Giggle and Learn series, praised by the NewYork Times as a winning combination of facts and gross-out fun.
---
From the bestselling duo behind Cloudy with a Chance of Meatballs comes the long-awaited sequel to Animals Should Definitely Not Wear Clothing, which shows us a hilarious new group of animals that shouldn't, ever ever ever, dress like humans.
Everyone knows that snakes and billy goats and walruses should definitely not wear clothing, but there are actually lots moreanimals that should definitely not wear clothing…
Because a frog might jump out of it,
Because a crab might tear it up,
And because a penguin is already formally dressed!
---
From crossing the street with Mama to encountering a stranger, the playful but careful antics of America's favorite dinosaurs will make readers laugh aloud — and prompt discussion of safety issues.
Few things in childhood are as important as learning how to behave safely, and the topic deserves discussion in every family. Now Jane Yolen and Mark Teague deftly approach this critical subject with warmth, humor, and hilarity.
The wildly funny contrast between Teague's massive dinosaur children and their human-sized surroundings makes this subject especially appealing and funny. Where a book about safety for children might be potentially frightening, the antics of immense dinosaurs jumping on the bed or learning how to dial 9-1-1 on Mama's tiny phone will keep readers laughing from start to finish.
---
From early childhood to life after eighty, the great challenge of any friendship is keeping it healthy and strong. In this funny, engaging book, award-winners Jane Yolen and Mark Teague present humorous, naughty dinosaur antics that any young sibling or friend will instantly recognize — followed by dinosaur-sized hugs and expressions of affection.
Do children in your home ever fight over a toy? Do good friends at school ever push or call names? And do buddies also know to share, give cookies, and apologize?
Come along and laugh in the tenth full-sized book in this highly acclaimed series — as little ones make friends and stay friends … the dinosaur way!
---
Over the snow, the world is hushed and white.
But under the snow is a secret world of squirrels and snowshoe hares, bears and bullfrogs, and many other animals who live through the winter, safe and warm under the snow.
---
Edie is EVER so helpful. In fact, helping is one of the things she's best at! Some might even say she's too good.
Whether it's helping her family wake up bright and early with an extremely loud song, brightening up the walls of her house with lots and lots of colorful paint, or styling grandpa's hair in the latest fashion . . . while he's fast asleep, sometimes Edie needs to be reminded not to be quite so helpful. Perfect for fans of Olivia, Fancy Nancy and Eloise — a joyful celebration of good intentions gone wrong.